Abrites
Professional diagnosis technology

Abrites is a world-renowned device for vehicle diagnostics. With the Abrites one can not only diagnose cars, but also trucks, motorcycles and boats. The advanced diagnostic technology makes it possible to program new car keys. There are hardly any limits. It does not matter if you just want to have a second replacement key or you have lost your only key. The adaptation of engine control units to the vehicle and the programming of various control devices is also feasible with the Abrites.
The device (AVDI – Abrites Vehicle Diagnostic Interface) is just as well known as the software, for the high quality standard and the continuous further development. The Abrites is characterized by high technical safety standards.
The Abrites is the only device worldwide that is able to change a great amount of data in various engine control units and other control devices due to the uniquely developed diagnostic software.
The Abrites is able to:
Adapt and reprogramme engine control units for many brands and models

Transmission control units for the most common Mercedes, VW, Audi, Seat and Skoda vehicles

EDC15 control units to be adapted and programmed

EDC16 control units to be adapted and programmed


EDC17 control units to be adapted and programmed
Adapt and program ESL and EZS on many Mercedes vehicles

Immobilizer for Opel, VW, Audi, Seat, Skoda, BMW, etc. to be programmed

Read and program error codes for most brands and models

car keys for many models to program

Read out data from car keys

etc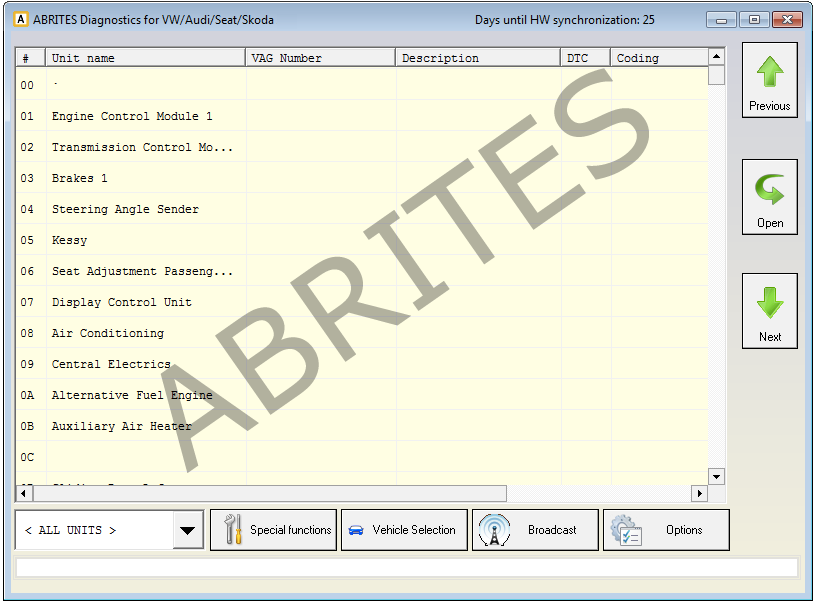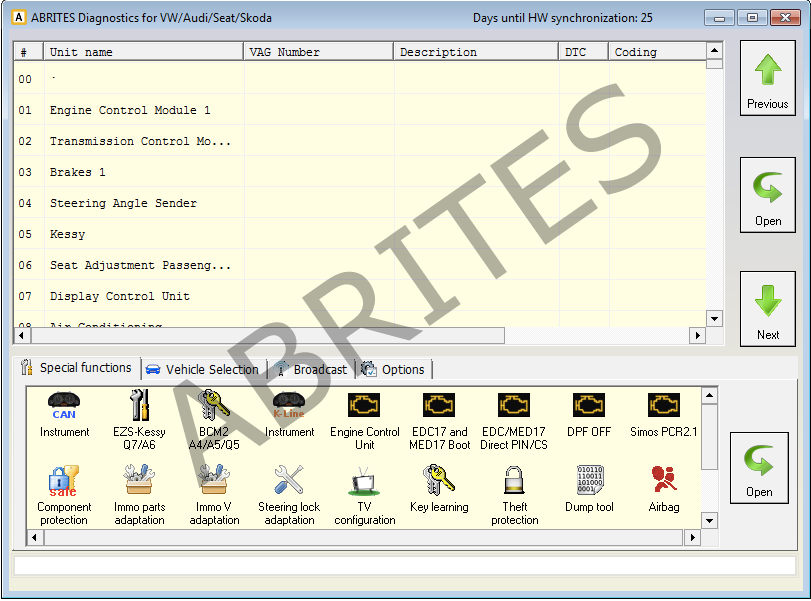 Versatile
Abrites is used not only by specialist workshops, but also by insurance companies, authorities and car experts all over the world due to its versatility.
The unique advantages of the Abrites are:
Compatibility with all software created by Abrites

When acquiring the Abrites, you automatically receive one year of free updates from the basic diagnostic suite

You will ONLY get free support by email, telephone or directly from us

SAE J2534 compatible driver for our interfaces

The Abrites is compatible with many other third-party diagnostic softwares

VCI emulator, which can allow AVDI to emulate various interface units (like K-line interface, ELM327 interface, …).

Emulation allows you to use many additional third party softwares – Webasto TT, Evinrude Diagnostics, Suzuki, Yamaha Marine Diagnostics and many others.

Abrites is compatible with VW, Audi, Seat, Skoda, Bentley and Lamborghini ODIS, as well as with VAG COM, VAS and VCDS

The device is compatible with 

Fiat EXAMINER

Toyota, Lexus and Scion Tachstream

Honda and Acura HDS

Volvo VIDA

DAS and Xentry – Star Diagnostics

Nissan Consult III +

Ford Scanner VCM 2 and VCM IDS 3

BMW-DIS via K-Line and CAN bus
BMW-E-Sys, INPA, EDIABAS, NCS Expert, NFS via K-Line and CAN-Bus, Dis and ICOM
Rover and Jaguar IDS
Subaru Select Monitor III
Bombardier Diagnostic Software (Marine)
GM – Tch2Win, GDS2 and PLC diagnostic software
Hyundai GDS
KIA GDS
Supports external communication connection with transponder programmers and IC programmers
In addition to all these integrated features, you can also purchase special features such as key programming, security code extraction, and more. Currently the Abrites diagnostic device with the name AVDI is distributed with the following diagnostic software:
VAG, for Audi, Seat, Skoda and VW

Porsche with PIWIS2

Mercedes, Smart and Maybach

Opel and Vauxhall

Toyota, Lexus and Scion

Citroen (compatible with LEXIA 3)

Jaguar and Land Rover

BMW and Mini

Renault (compatible with CLIP)

)
Nissan and Infinity

Peugeot and Citroen (compatible with ACTIVA, PPS2000 and PLANET)

Fiat, Alfa and Lancia

Ford and Mazda

Chrysler, Jeep and Dodge (compatible with wiTECH)

DAF (compatible with VCI-560)


Mitsubishi (compatible with MUT diagnostic scanner)

Hyundai and Kia

Suzuki (compatible with TECH2)


Volvo

Daihatsu

Bicycles, snowmobile and watercooter

Subaru


J2534 PassThru driver that allows the user to use third-party diagnostic software
The diagnostics for MAN and Scania are currently under development.
The interface will also be compatible with our other tools. We are currently developing the software for the following components:
Locksmith Tool

Kilometer tool

Chiptuning Tool


SRS Tool
Certified Quality
Abrites, also called AVDI (Vehicle Diagnostics Interface) has been developed according to European directives and complies with the following standards: 2004/108 / EC, 2006/95 / EC, 2011/65 / EU, 2012/19 / EU and complies with the following safety standards: EN61010- 1: 2010, EN61326-1: 2013.
Abrites also has a GS certificate, which has been tested by TÜV Rheinland. This reflects the high quality of the device. The further development is guaranteed as we are always oriented towards the increasing demands and developments on the automotive market.
Technical specifications:
K-line ISO 9141 (100 mA) is multiplexed on 24 different pins of the diagnostic connector

ISO14230 compliant

SAE J1850 VPW, PWM-compliant (required additional adapter)

Single-core CAN bus, which is multiplexed to different pins of the diagnostic connector

Dual-wire low-speed CAN bus multiplexed to different pins of the diagnostic connector

Dual-wire high-speed CAN bus multiplexed to different pins of the diagnostic connector

CAN bus GMLAN, ISO14229, ISO15765, J1939, ISO22901 compliant


Analog input

Bluetooth connection (* optional)

USB interface to PC

Supply voltage 8..30V DC


OBDII cable

Updatable software