DiagProg4 – professional diagnostic tester
The DiagProg4 diagnostic tester hat offers maximum flexibility and comfort, while maintaining ease of use.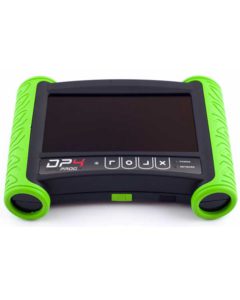 DiagProg4 diagnostic tester is an innovative device that allows to read and clear (erase) diagnostic faults – trouble codes (DTCs) in all brands and models of cars, trucks and motorcycles. This device supports all possible communication protocols: SAE J1850 VPW, ISO 9141, ISO 14230 (Keyword 2000), ISO 15765 (CAN bus).
DiagProg4 diagnostic tester is the safest and fastest professional diagnostic tester available on the market.
DiagProg4 – basic functions:
– reading /clearing (erasing) diagnostic faults – trouble codes (DTCs),
– clearing (erasing) oil inspection,
– km /miles programming – conversion from one to the other, language alteration,
– programming motorhours (mth) – operating hours,
– advanced service history functions – reading /clearing (erasing),
– reading and programming EEPROM memory via diagnostic connector (all parameters),
– reading and programming FLASH memory via diagnostic connector (eg. for Tuning),
– immobilizers/keys/remotes programming,
– clearing (erasing) accidents,
– car module programming after exchange (vehicles currently require module exchange for new one or used one as well as programming it for proper usage),
– Easy, fast and safe programming
DiagProg4 DIAGNOSTIC TESTER supports following modules:
– engine control computer (responsible for engine work),
– ABS pump (for ABS operation),
– Immobilizer (anti – theft control ),
– BODY Control Unit (BSI , BCM) computer (responsible for windows/mirrors, central locking),
– sensor airbag (responsible for airbag control),
– central diagnostic gate (called Gateway, ZGW) – responsible for diagnostics – new modules configuration,
– Tire Pressure Monitor (TPM – module responsible for tire pressure control)
TECHNICAL PARAMETERS
CONNECTION – WIFI IEEE 802.11b/g/n– USB 2.0
DISPLAY – 7' (165 mm x 104.44 mm x 6.76 mm)
TFT display 800×480 with 262 thousands of colours
Multi-touch screen
POWER SUPPLY VOLTAGE – 12VDC
DIMENSIONS (L x W x H) – 176 x 226 x 52 mm
WEIGHT – 0,65 kg
PROCESSOR / FPGA – 32 BIT ARM CPU 384 MHz
– CPLD/FPGA with PLL 400 MHz
TEMPERATURE RANGE – od -20O C do +55OC
ADDITIONAL FEATURES
– 3-axis accelerometer,
– light sensor
RAM MEMORY – 128 MB
MASS STORAGE – 8 GB Micro SDHC (max 32 GB)